GREEN ARCHITECTURE
G-SEED [ Green Standard for Energy and Environmental Design ]
We assess the impact of buildings on the environment to realize sustainable development of buildings and help people and nature to co-exist in harmony.
Tounify overlapping subjects and certification criteria of the Environmentally-friendly Building Certification System under the Building Act and the Housing Performance Grading Certification System under the Housing Act, the two certification systems were integrated into the G-SEED certification in June 2013.
Subjects

-

Public housing, mixed-use buildings (residential), office buildings, school buildings, sales facilities, accommodation facilities, small houses, existing public housing, existing office buildings and other buildings (including emodeling)
G-SEED INCENTIVES<SEOUL>

EXAMPLES OF G-SEED BUILDINGS DESIGNED BY TOPEC ENGINEERING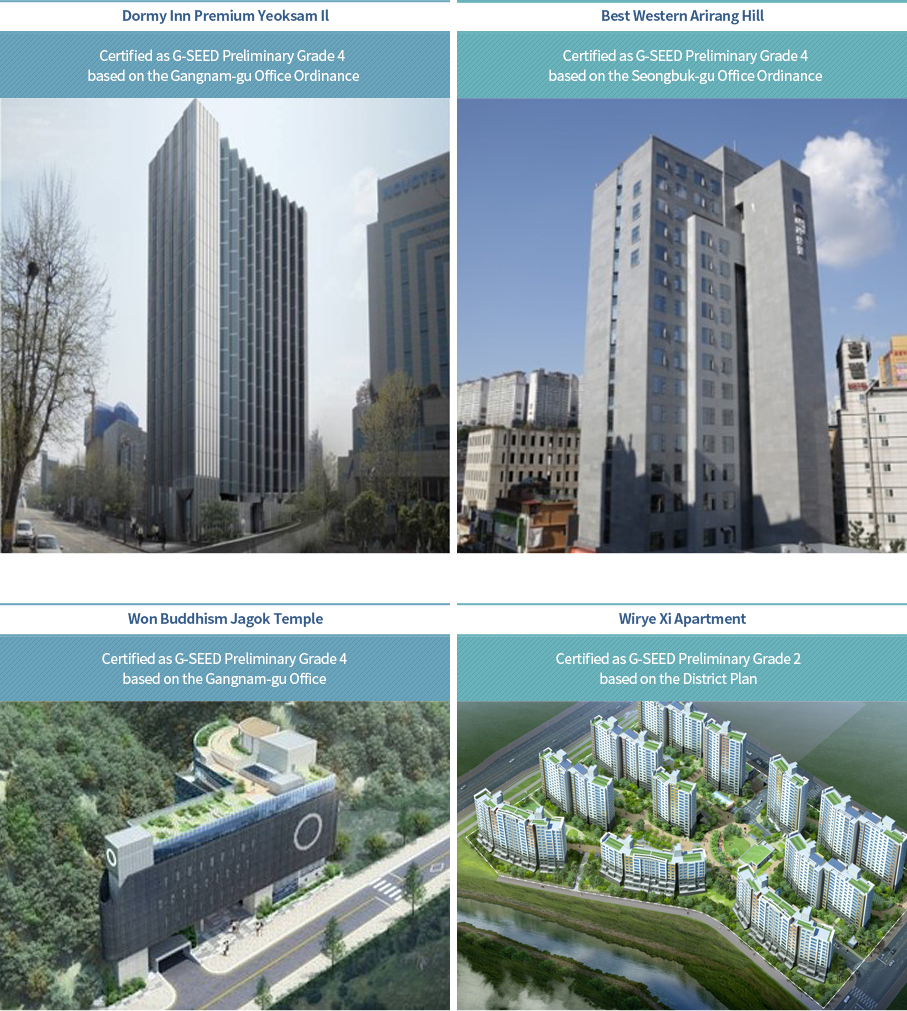 LEED CONSTRUCTION MANAGEMENT
LEED is a global certification developed and provided by the US GREEN BUILDING COUNCIL (USGBC) to evaluate the environmental performance of buildings and ensure that buildings are designed, constructed and operated as high-performance green buildings.


CM WORK
1. Technical Review of Drawing for Energy Saving and Eco-Friendly Technology
2. Inspection and Control of Contractor's Work suitable for LEED Certification
- Plan and Execution to prevent Dust, Air & Water Pollution by Erosion and Sedimentation.
- Verification and Inspection for Suitability of Waste, Recycling and VOC (Volatile Organinc Compound) Resources Management
TOPEC CASE