CONSTRUCTION SUPERVISION
Construction supervision is based on Article 25 of the Building Act. It is aimed to ensure high quality construction and maximized profits of the client by thoroughly observing technical standards and regulations and implementing tasks in an ethical and fair manner based on technical expertise in all the areas of construction work.
OBJECTIVES
SUPERVISION ACTIVITIES BY PHASE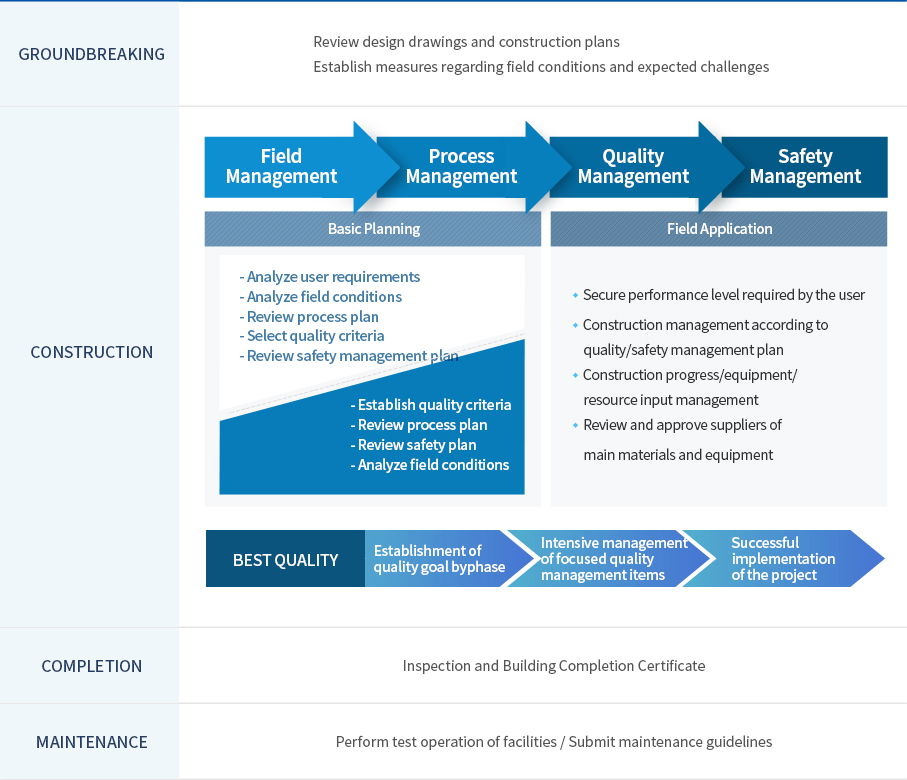 CONSTRUCTION SUPERVISION WORK
Multi-purpose Gym, Nam-gu, Gwangju
POWER FACILITY CONSTRUCTION SUPERVISION
We perform construction supervision for power facilities according to Article 12 of the Electric Technology Management Act, examine design drawings and related laws and provide technical consulting on quality management, construction management and safety management, and ultimately secure the safety and conveniences of buildings by complying with regulations during construction.
INFORMATION & COMMUNICATIONS CONSTRUCTION SUPERVISION
We conduct construction supervision for information and communications facilities according to Article 8 of the Information and Communications Construction Business Act, aiming to enhance information and communications function by establishing optimal communications infrastructure and securing user convenience in buildings.
FIRE SAFETY CONSTRUCTION SUPERVISION
We conduct construction supervision according to the Fire-fighting System Installation Business Act. We strive to secure performance and quality by installing rational fire-fighting facilities that meet related laws and regulations and make our utmost efforts for construction management by placing fire prevention and resident safety a priority.
ELECTRICTY, COMMUNICATION, FIRE PROTECTION WORK
Yeongju Korean Culture Theme Park